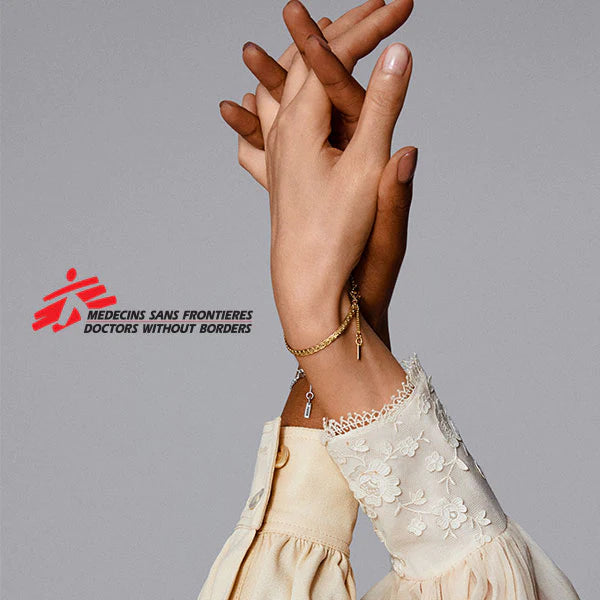 PILGRIM X DOCTORS WITHOUT BORDERS

At Pilgrim, we have created a tradition of helping others whenever possible through charitable work and donations.

Every year we work in collaboration with Doctors Without Borders / Médecins Sans Frontières (MSF).

WHAT IS MSF?

Médecins Sans Frontières (MSF) / Doctors without Borders is an international, independent medical humanitarian organization.

They provide medical assistance to people affected by conflict, epidemics, disasters, or exclusion from healthcare. Their teams are made up of tens of thousands of health professionals, logistic and administrative staff - bound together by the charter. Their actions are guided by medical ethics and the principles of impartiality, independence and neutrality.

They are a non-profit, self-governed, member-based organisation. MSF was founded in 1971 in Paris by a group of journalists and doctors. Today, they are a worldwide movement of nearly 65,000 people.

$21 for every jewellery piece sold

Each season, Pilgrim's designers work closely in collaboration with MSF's team to design unique pieces of jewellery in support of this cause.

For each MSF jewellery piece sold, Pilgrim donates $21 directly to Médecins Sans Frontières (MSF) / Doctors without Borders.

GIVE BACK

WHERE WE
ARE TODAY

Pilgrim has donated $3 000 000 CAD to MSF to date.

We couldn't have done it without the help of our customers.
$21 IS DONATED TO Médecins Sans Frontières FOR EVERY MSF JEWELLERY PIECE SOLD
IN A WORLD WHERE YOU CAN BE ANYTHING- BE KIND.